The New Mexico Attorney General's office and The New Mexico Livestock Board are hosting an all day fund raising event on July 22nd, 2023 at the Elite Roping Arena located at 91 Oteror Rd Las Lunas, NM. This event will include a roping contest, a cook off and dance/dinner (Click on the flyer image below for more details). All proceeds from this event will be donated to the Law Enforcement Torch Run for Special Olympics New Mexico (LETR). The link below will take you to their online registration page where you can sign up and purchase tickets for this event.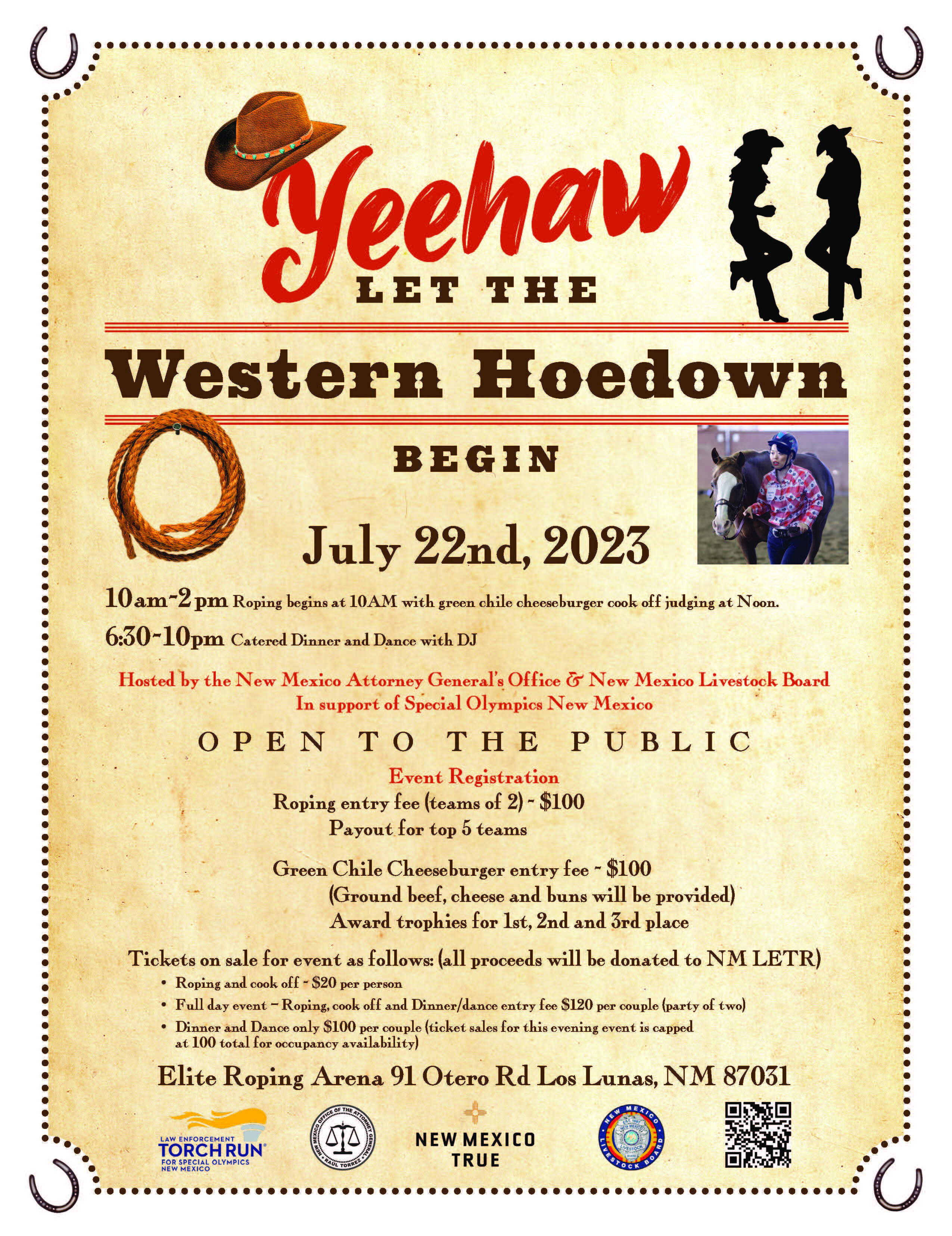 Click Here to register for this event
Law Enforcement Torch Run for Special Olympics - NM
LETR
March 1, 2023
The U.S. Department of Agriculture's National Institute of Food and Agriculture (NIFA) Veterinary Medicine Loan Repayment Program (VMLRP) announces the opening of the fiscal year (FY) 2023 application cycle. NIFA anticipates that approximately $10 million in funding will be available in FY23 to help mitigate food animal veterinary service shortages in the United States. VMLRP helps qualified veterinarians offset a significant portion of the debt incurred in pursuit of their veterinary medical degrees in return for their service in certain high-priority veterinary shortage areas.
The VMLRP supports NIFA's Animal Systems portfolio by facilitating professional workforce development in critical agricultural sectors related to animal health and well-being. The program contains two general categories of participation:
Mitigation of private veterinary practice shortage situations.
Mitigation of public veterinary practice and specialty veterinary discipline shortage situations.
VMLRP awardees commit to providing at least three years of food animal veterinary services in a designated veterinary shortage area in return for payments of up to $25,000 of student loan debt per year with a maximum of $75,000 for a three-year contract. VMLRP awardees are eligible to reapply to continue to serve their originally awarded shortage situation area in the last year of their contract or one year after their contract ends.
The VMLRP Request for Applications (RFA) and the 2023 veterinary shortage situations are now available. A new requirement this year is a Letter of Intent (LOI). Specific instructions are available in the VMLRP RFA. The deadline for LOI is April 3, 2023, and the application deadline is April 17, 2023.
NIFA encourages interested applicants to view the informational webinars before starting the application process. Informational webinars are provided below.
VMLRP staff will host two live FAQ sessions which will occur on:
March 16, 2023, from 4:00 – 5:00 PM EST
March 28, 2023, from 4:00 – 5:00 PM EST
Please share this email announcement with stakeholders in your network. Please refer to the VMLRP Annual Report for more information about the program.
Questions about the VMLRP application process may be sent by email to VMLRP.applications@USDA.gov
On January 31, 2023, USDA-National Institute for Food and Agriculture (NIFA) published the fiscal year (FY) 2023 Veterinary Services Grant Program (VSGP) Request for Applications. The purpose of the Veterinary Services Grant Program is to relieve veterinarian shortage situations and support food animal veterinary services. There are two types of grants for VSGP: Education, Extension, and Training (EET) and Rural Practice Enhancement (RPE). VSGP was appropriated $4 million in funding for FY 2023.The deadline for applications is March 29, 2023, at 5:00 PM ET.
Additionally, NIFA published the FY 2023 veterinary shortage situation areas submitted by State Animal Health Officials (SAHO). NIFA received 237 veterinary shortage area nominations which are now available for both VSGP and Veterinary Medicine Loan Repayment Program (VMLRP) applicants to review on the Veterinary Services Shortage Situations Map.
NIFA will host two live FAQ events where interested applicants will have the opportunity to ask questions regarding VSGP applications directly to the VSGP team. The live FAQ events will be hosted on:
Wednesday, February 22 from 3:00 PM – 4:00 PM ET
Wednesday, March 15 from 2:00 PM – 3:00 PM ET
Registration is required for the live FAQ events and can be accessed by clicking on the links above.
We appreciate your partnership in sharing this funding opportunity with your networks.
Sincerely,
Bob Smith, DVM, PhD
National Program Leader
Kathe Bjork, DVM, PhD
National Program Leader
Danielle Farley, MA
Program Specialist
Animal Systems Division

Institute of Food Production and Sustainability
National Institute of Food and Agriculture (NIFA)
U.S. Department of Agriculture